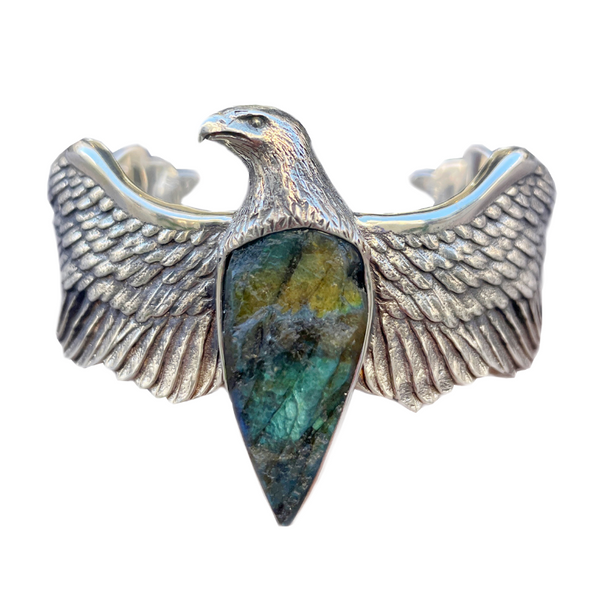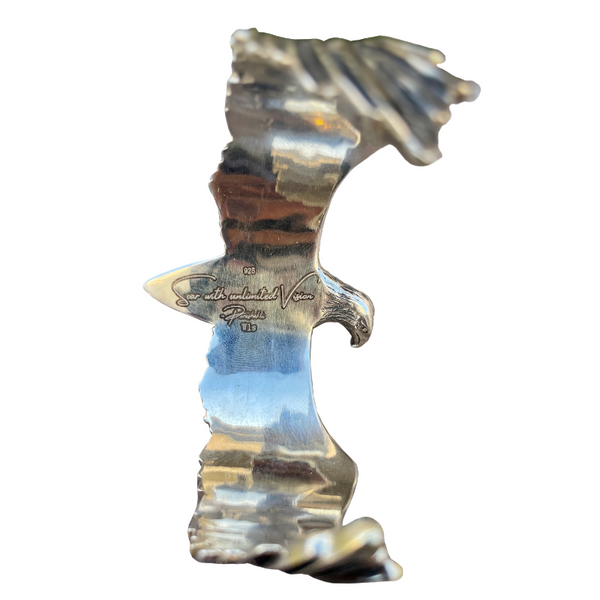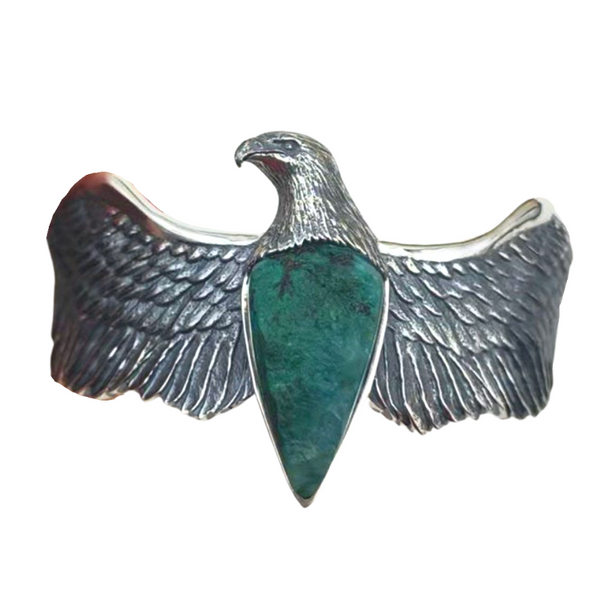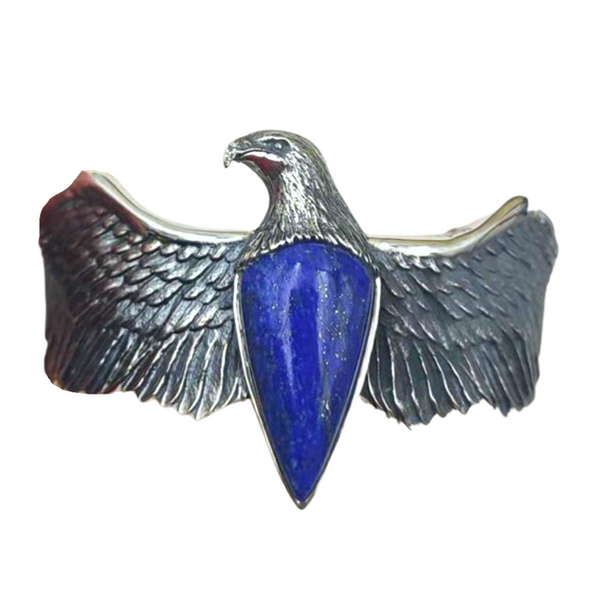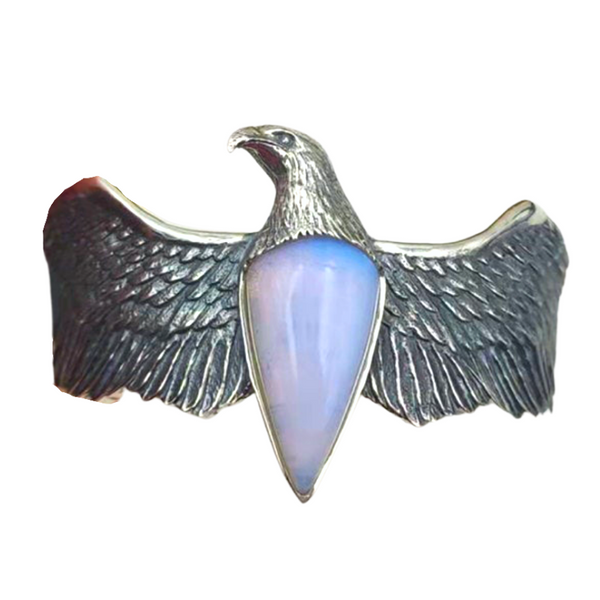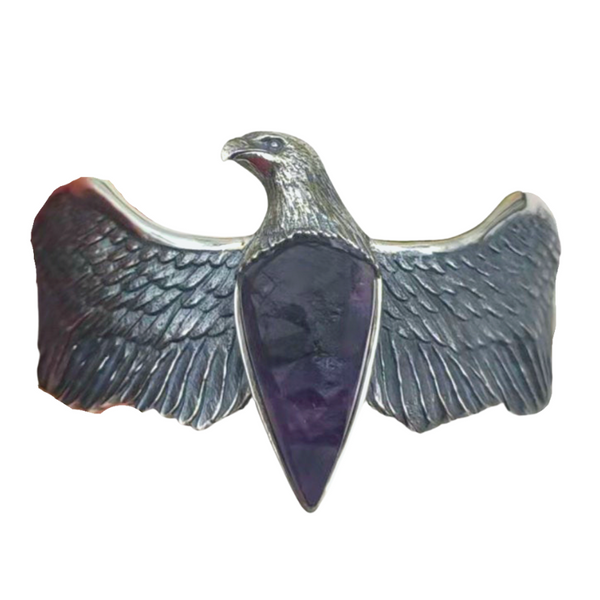 NOTE: This item is made-to-order so please allow 4-6 weeks for shipping.
Our CoCreator silver cuff is a joint design venture between Winged Ones founder Parashakti and her dear Soul sister, Conscious Pop Artist Sereza. Featuring a centerpiece similar to our Visionary pendant and wings that wrap around your wrist, this statement piece will embolden you with the true guidance of the Eagle.

This authentic piece is an acknowledgement and recognition of the vision that one holds with the knowing that they have the utmost support from source, Creator, and Spirit.

The medicine of our CoCreator bracelet consists of coming attuned, aligned, and Wing-to-Wing with this intention so that the wearer can begin to utilize this Power Object with the invitation to form deeper connections to trust and faith, to the "something bigger" that they are CoCreating.

It is a reminder that we're not alone, activating and enhancing our trust in ourselves so that we can nurture our infinite connection to Creator and reach out for the support we need in order to bring our intentions to light.

This is why each bracelet is lovingly engraved with the following message on the inside of the band: "Soar with Unlimited Vision" — a reminder to bridge the gap between the physical plane and the Spirit realm, to dance our dreams into manifestation.
----------------------------------
About the Designers
Parashakti

Parashakti's shamanic healing work is born of more than two decades of experience facilitating workshops, trainings, and retreats around the world. Over the last 20 years, she has developed the Seven Foundations and the Dance of Liberation™ as maps for her spiritual practice, living and breathing these foundations in daily ritual.

She first began consciously dancing with the Eagle as a power animal, ally, and teacher two decades ago, when she first connected with indigenous American practices at the Naraya, a ceremonial dance of healing and renewal drawn from the traditions of the Native peoples of the Great Basin.

There, Parashakti encountered Nancy Eagle Spirit Woman, a carrier of Eagle Medicine, and Shaman Charles Lawrence, a medicine man who carries the Vision for the people. The spirit of Eagle spoke to her, and as she began learning to dance with and invoke it, she realized she had been dancing with Eagle her whole life. Thus, the Winged Ones came to fruition -- as symbols of the fearless energy that Eagle Medicine can instill us all with, and the Spirit of the Eagle that we may all embody in our day-to-day lives with Power Objects as our reminder.
Sereza

The creation journey for this talisman bracelet has been a very magical, natural flow. The vision came through one night after Parashakti showed me one of the beautiful bracelets she had previously designed on her wrist. From there, inspiration took hold of me.

I showed Parashakti the design that had come to me and she immediately loved it. Shortly after, she took it to her jewelry makers to bring it to existence!

It is so magical and wonderful to witness the step-by-step process of bringing the CoCreator into reality, for you to make it your Power Object, infusing your beautiful energy and clear intent to "co-create" with our supreme Creator all the wonderful thing for your life, to enhance this world and to enrich the collective higher consciousness with your powerfully divine contribution.

Being a very artistic Soul has allowed me to tune in deeply to flow states, and to connect what is in my heart, mind, and soul to the tangible world.

I thrive in using music, oil painting, fashion design, and jewelry design as avenues of expression — expressions of love and gratitude for life, as well as connectivity with the collective.