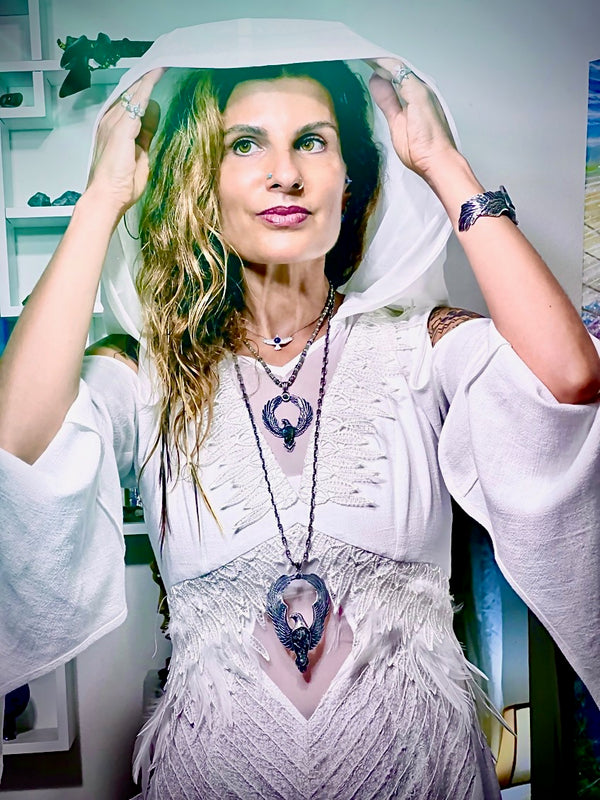 Goddess Dresses ~ Step into Your Higher Self, Your Divine Feminine

 
Our birthright as women is to step into the imprint of our Soul's calling. Our Goddess Dresses sacred attire initiates that higher calling that each and every woman has before she came into this lifetime. 

Each design is exquisitely tailored to embody a different expression, whether that is removing the veil, blossoming into our divinity, or going deep to uncover the light waiting to shine even brighter.
With Eagle Medicine, the Eagle design allows for the feminine aspect of the carrier of the dress to be in her utmost freedom of expression.
For each woman who is hearing her Soul call and is ready to embody this attire, we are committed to soaring with her, Wing-to-Wing, so she knows she has sisters who are walking the path with her. 
The dress comes with or without a blessing and 1-hour activation with Parashakti.
Eagle Goddess Dress
The Eagle Goddess Dress is designed to initiate the process of awakening the Goddess within and giving her the Wings to express herself freely. 
Pieces from our sacred jewelry collection such as the SunDancer, DreamWeaver, Embodiment Pendant or Visionary all have a place to nest on the dress while the open shoulders empower a woman to show her strength.
A delicate row of feathers encircles the waist, allowing the wearer to feel supported by Eagle Medicine.
The hood comes with a snap comb to gently hold the delicate fabric in place or can be removed and detached from the snaps.
The beautiful attire effortlessly flows with your movements while keeping you grounded with the earth. 
White symbolizes purity, freedom, and new beginnings while most closely resembling the Clear Quartz crystal.  
Fabric: 80% rayon / 20% linen
Care: Dry clean
- About the Designer - 
Lisbeth is an artistic Soul and frequent collaborator for Parashakti and The Winged Ones. Her creative prowess has given us pieces like the CoCreator Cuff, Embodiment Pendant, and now, her new line of Goddess Dresses.
As a Conscious Pop artist and spiritual visionary, she thrives in using music, oil painting, fashion design, and jewelry design as avenues of expression — expressions of love and gratitude for life, as well as connectivity with the collective.
Activation Blessing Ceremony (ABC)
ABC is in divine timing of the completion of your blessed attire & has a 30 day time period in which you are invited to receive this session. This expires after the 30 day mark. We have a 24 hour cancellation policy. Clients will be charged a fee should they need to cancel within 24 hours of appointment.