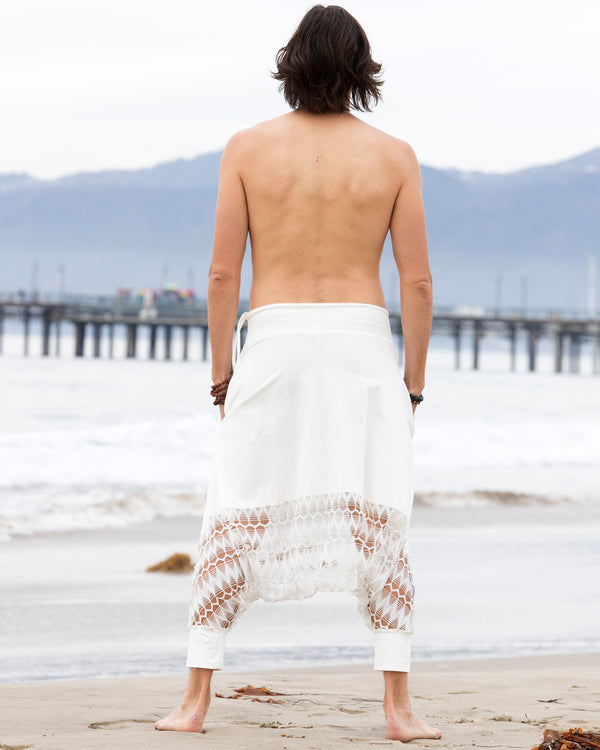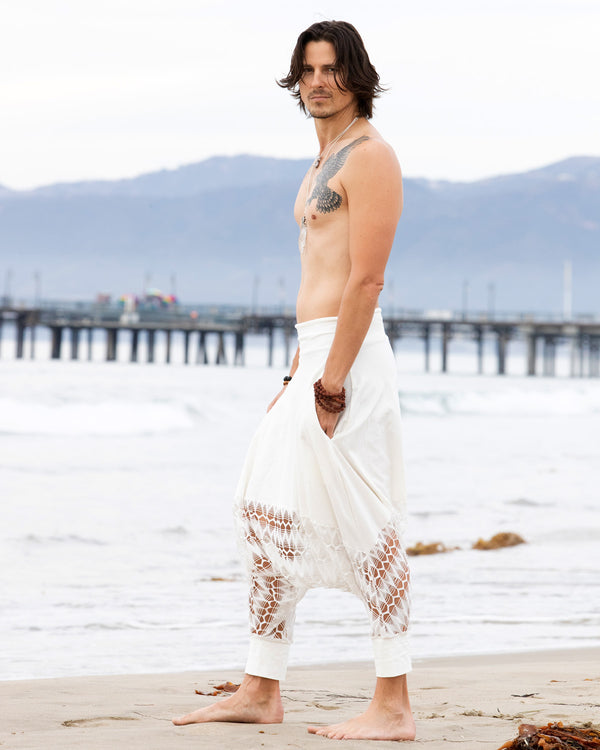 Size: Unisex / One Size Fits All
Fabric: Ivory white cotton jersey (90% cotton x 10% lycra) + upcycled lace (polyester x cotton blend)
Aquila (/ˈaːkwila/): Latin; refers to the genus of true eagles. 
The aquiline lace motif of these stunning pants is evocative of the Eagle, the totem animal of our Dance of Liberation™ practice. When you wear them, you will move gracefully like the Eagle, leaving the ground behind and soaring to new heights as you dance wing to wing with your Truth. 
Designed by Glorka™ with love. Handmade with devotion in Los Angeles and New York.
These white, lace-bottom, Ceremonial free-flow pants feature a loose and relaxed fit. Ideal for yoga, dance, meditation, intentional gatherings, sound baths, and beyond...
This piece is a conscious creation with a pure, beautiful energy. It is part of the Dance of Liberation™ ceremonial collection, a carefully-curated selection of wraps and pants specifically designed to accompany your journey with Parashakti. 
Features:
- Unisex
- Stretch
- Flowing relaxed fit
- 2 side pockets
- Inner drawstring to secure the waistline
Measurements:
The pants fit sizes: S, M, M/L
- Length: 39" (~104 cm)
- Waist stretches: 30" - 40" (76 - 100 cm)
Male Model: 6'1 (185 cm)
Female Model: 5'7 (170 cm)
Care:
Gentle cycle cold/warm machine wash and low temperature dryer are OK.
We hand make all garments with love and care and we want them to bring you joy as long as possible! This is why we always recommend hand washing and drying flat to preserve the item to last longer.
Please avoid hot dryers!
ABOUT THE DESIGNER:
Glorka Wear™ is handmade, ethical, and sweat-shop free production. We work with three seamstresses from New York and Los Angeles. We are very proud to work with this great team full of passion for sewing and crafting.
All of our creations are limited editions only. We only use the same fabric for up to 5-6 pieces and then move on to the next fabric. The only ongoing designs we have are solid pure white and solid black colors.
To reduce textile waste we strive to upcycle (use discarded or vintage fabrics that would end up in waste otherwise), and eco-friendly natural fabrics and blends. We are trying to use recycled polyester and upcycled synthetics to reduce waste.  You can always inquire about each of the fabrics we use for our designs by contacting us directly.