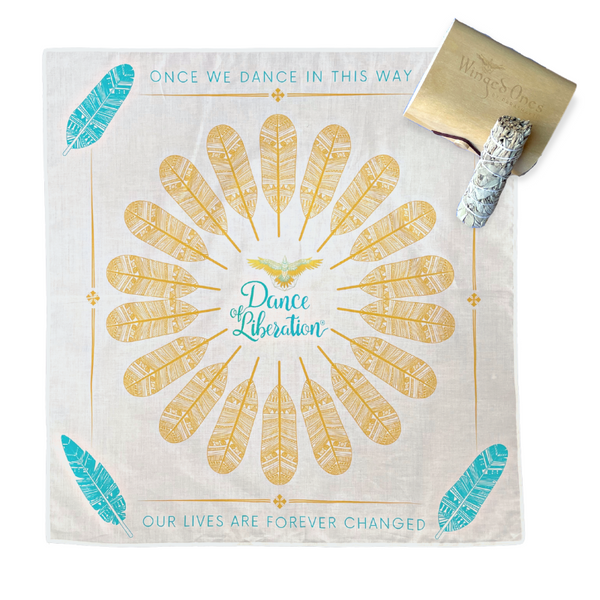 "Once we dance in this way, our lives are forever changed." - Parashakti, founder of Dance of Liberation® 
Our Eagle Vision altar kit was developed to assist you in laying the groundwork for your sacred space creation. It includes:
Our 100% organic cotton Eagle Vision bandana, which doubles as an altar cloth 
A raw bentwood altar box, designed to hold crystals, your Winged Ones power object, or other meaningful trinkets
A sage bundle for cleansing and purifying the space
The bandana features an intricate and intentional feather design to symbolize lightness and freedom. The quote on this bandana is meant to serve as a reminder for how you can integrate your spiritual practice into your day-to-day. How will the knowledge you form in sacred space impact the way you move through life?
The center circular pattern represents the Medicine Wheel, the Circle of Life and alignment of the spiritual and physical planes, in which different directions correspond with different aspects of the Self, the Earth, and the Creator. The Eagle in the center serves as the Winged Ones Spirit Animal, a symbol of higher vision. 
The ceremonial white material symbolizes purification and clarity, while our signature colors adorn the details (gold for illumination, turquoise for communication and exploration.)
Eagle Vision Prayer: As you Dance into the mystery, know that this tool serves to create sacred space, solidify your deepest intentions, illuminate the darkness, breathe in Spirit, and listen in rhythm of your Soul. May your Dance of life and liberation ignite and awaken your movement as medicine.