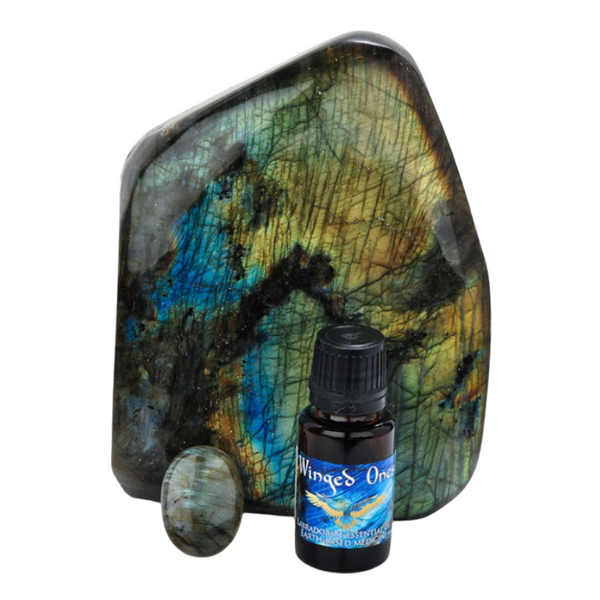 Our pure, therapeutic-grade essential oil blend is perfect for creating sacred space internally and externally. This proprietary blend is intended to awaken the inner Spirit, guiding you to spread your Wings and soar with unlimited Vision.
When its potent, earth-based aroma surrounds you during meditation, you will be transported to new levels of consciousness along with feeling a deeper grounding connection. It comes with a hand-carved wooden Eagle altar box and Labradorite palm stone.
For Sacred Space:
Simply place some of the oil in a reed diffuser at the center of your altar to enjoy its healing qualities during your East Gate experience. You can also diffuse it in an evaporative diffuser to enjoy its refreshing scent throughout your home. 
We highly recommend dabbing a couple of drops on your pulse points to embody its utmost enticing aroma and carry its essence with you everywhere you go.
For Internal Use: 
The oils included in this blend are safe for ingestion. Feel free to drop some of this essence into your favorite recipe while cooking, add some to fresh water for drinking, or place some in a veggie capsule to swallow. Please keep in mind that you only need a drop or two in order to reap its many holistic benefits. 


ABOUT LABRADORITE
Labradorite is our trademark stone — and for good reason. This blue-green stone is frequently associated with transformation. It is thought to bring its owner the strength he or she requires to undergo difficult changes and weather existential or spiritual crises.
Labradorite is believed to stimulate the fifth chakra, the throat chakra, which is responsible for communication and expression. It is believed to impact to alleviate the following ailments:
Overwhelming stress & anxiety

Chronic overthinking

Irregular metabolism

Hormonal imbalance

Menstrual tension

Rheumatism and other auto-immune disorders

Gastrointestinal upset


WHERE WE SOURCE OUR OILS
We use high-quality, all-natural oils from Lebermuth to create our signature blend. Lebermuth is dedicated to incorporating green technology, like using less water for plant growth, utilizing solar energy, and using fuels that reduce carbon output.
They source from 30 different countries to ensure customers receive the best quality materials with fewer supply chain interruptions. 
Lebermuth travels to the fields throughout the year to evaluate the crops and predict market fluctuations. From lavender in Bulgaria to amyris in Haiti to the oranges in Italy, they nurture direct-to-grower relationships.